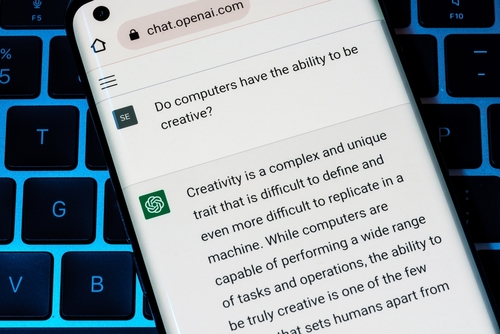 Artificial intelligence (AI) prompts are an essential tool for businesses and individuals looking to create high-quality content quickly and efficiently during website design and development. With the ability to generate a variety of text-based content such as articles, product descriptions, and social media posts, AI prompts are increasingly popular. However, creating effective AI prompts can be intimidating at first. That's why we created this guide. 
There are several important factors to remember when generating great AI prompts. As you'll see, they're all in tension, so the trick is to balance them. Here are some tips and examples to help you create more effective and relevant prompts if you find yourself in a content pinch for your next blog or service page.
A Note of Caution
A fellow writer or grammarian can always detect untouched AI-written prose. Keyword stuffing and similar black hat SEO tricks, or even just the appearance of their use, lowers search performance. This applies to AI content too. So this blog has no gimmicks, just sound advice that arises from practice using ChatGPT and other AI chatbots.
While you may not be working under rules limiting the use of AI to create content, it won't perform if you don't actively participate in the content creation process. That means using the tips below to generate what you can think of as very rough, raw drafts. They should never be a final work product as-is. (That's still your job.) 
Better yet, consider each of your AI interactions as an ongoing conversation. If you allow yourself to play and get creative, you'll have plenty to work with in shaping your final content.
Tip #1: Be Specific
AI works best with a clear and specific prompt, as it tends to spin out and start making things up if it doesn't have enough to go on. Instead of a broad topic, focus on a specific scenario or question to help the AI generate a more relevant and accurate response.
Instead of: "What is the best way to market my product?"
Try asking: "What are some effective marketing strategies for a new baking product targeting young Gen Z men?"
Instead of: "How can I improve my website?" 
Try asking: "What are some UX design and development best practices for improving conversions in the logistics industry?"
Instead of: "Ways to improve my sales?"
Try asking: "What are some creative sales tactics for promoting our new vegan snack line to health-conscious consumers?"
Tip #2: Use Clear Language
On the other hand, you want to avoid using overly complex language or jargon in your prompt. The AI will generate a response based on your words, so ensure they are clear and concise. Using simple language will also help ensure the AI understands your prompt.
Instead of: "Leverage blockchain technology to optimize supply chain management."
Try saying: "Use blockchain to improve how we manage our logistics."
Instead of: "Our API provides solutions for various B2B enterprises." 
Try saying: "Our API can help businesses streamline their operations and boost efficiency."
Tip #3: Include Context
Providing context for your prompt can help the AI generate a more accurate and relevant response. This can include information about the topic, the audience, or the desired outcome. By providing context, you can help the AI to better understand what you are looking for. 
Instead of: "What kind of content should I create for my social media campaign?"
Provide context: 
You: "I am launching a new line of sustainable fashion products."
AI: "Okay, how can I help?"
You: "Let's target environmentally-conscious millennials."
AI: "Okay!" [Or possibly it spits out an entire marketing campaign or some other response that doesn't answer your real question.]
You: "What kind of social media content should I create?"
Instead of: "What kind of content should we create for our Instagram page?"
Provide context:
You: "We are a luxury travel agency targeting high-net-worth individuals."
AI: "Okay, how can I help?"
You: "We want to showcase our unique travel experiences."
AI: "Great!"
You: "What kind of Instagram content can we create?"
The ability of AI chatbots to remember past prompts comes in handy here because they can respond in conversation instead of just spitting out answers: Feel free to "check-in" with your AI partner as you develop your context. And if it seems to be remembering another conversation (say, if during the travel agency query above, it starts talking about the eco-friendly millennials from the previous query), just hit "New Chat" or its equivalent on the platform to clear the decks.
#4: Get Creative
Don't be afraid to think outside the box when creating AI prompts. Creative or unusual prompts can lead to unexpected and interesting responses from the AI. It's a great way to generate new ideas or perspectives that lead to fun, relevant, original content.
Instead of: "What are some ways to reduce churn rate for our SaaS product?" 
Try asking: "If our SaaS product was a superhero, how could it save the day for our customers and reduce the churn rate?"
Instead of: "What are some ideas for a Scottish vacation?" 
Try this: "Please create a one-week itinerary for a trip from Dallas to Scotland, with an emphasis on 1973's 'Wicker Man' filming locations. Include cost estimates for two people."
Instead of: "What are some effective customer service strategies?" 
Try asking: "If our company was a character in a TV show, how do we provide customer service that makes our customers feel like they're part of the cast?"
#5: Use Examples
Providing examples of what you are looking for can help the AI better understand your prompt and generate a more relevant response. This can be especially helpful when working on complex or technical topics.
Instead of: "What are some good blog post topics for our business blog?"
Try giving examples: "Please give me 25 blog titles like "How to improve workplace productivity," "Tips for improving customer retention," or "The impact of AI on the retail industry."
Instead of: "What are some ways to optimize our website for search engines?"
Try saying: "How to create engaging content for a fashion e-commerce website," "Best practices for local SEO for a dental practice," or "Tips for improving website speed and user experience for a mobile app."
#6: Test and Refine
Finally, it's essential to test out different prompts and see what kind of responses the AI generates. Try out other prompts and see what kind of responses you get. If the responses are not what you expected, refine your prompts and try again. Over time, you'll learn what works best for your specific needs and can adjust your prompts accordingly.
Considerations and Takeaways
Probably the most crucial tip we will give you here: Think like a writer, not a marketer. 
When we write with compassion and empathy, we create space for the other party to participate by including their perspective and needs. Conversing with AIs is an artistic act, perhaps more art than science, and you need to bring your whole self to the conversation. Compassion, empathy, and patience aren't just soft skills that would be good to have: they are the precise qualities that will set your AI work apart.
Think about the tone and voice of your prompts. Depending on your audience and the content you're generating, you may want to use a formal or informal tone or a specific brand voice. Keeping your tone consistent helps you be sure that your AI-generated content fits seamlessly into your overall marketing strategy. It's surprising how much the AI can pick up on those subtleties of voice and even more surprising how accurately it can reproduce certain aspects of your language.
It's also vital to consider prompt length. While longer prompts may provide more context, they can also be more difficult for the AI to process. You'll find the sweet spot eventually, but in the meantime, just imagine that AI prompting follows the same rules as SEO. Structured data, for example, is easier for the machine to parse, so prompts like "Please expand upon these five items, adding examples," followed by the language you want to drill down on, will result in a much more helpful piece of content to start working with than trying to eke out a prompt that can do everything at once.
Finally, knowing any biases or limitations in your AI algorithm is important. This can include language processing limitations and potential biases in the data used to train the AI. It also includes chatbots whose training data has an end date, making it less useful for some current or newsworthy subjects. By understanding these limitations, you can avoid creating prompts that may result in inaccurate or irrelevant responses.
Big D Creative Can Get You There
AI prompts are an invaluable tool for creating timely and high-quality content, but making effective AI prompts can be a complex endeavor. With the right expertise and understanding of the technology, AI can be a game-changer. 
Whether you're looking for marketing juice for a new product or just want to revitalize and refresh your web presence, consider reaching out to the experts at Big D Creative for guidance and support. Contact us today to learn how we can help you turbocharge your digital marketing efforts.