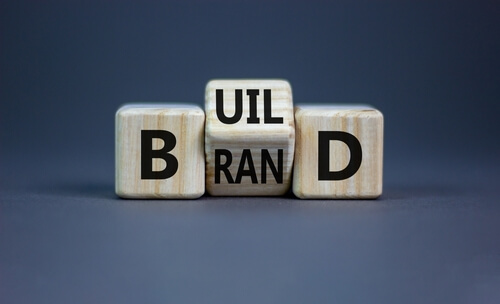 A strong brand identity is crucial in building a successful business. Your brand sets you apart from competitors and helps you connect with your audience. A strong brand identity increases brand recognition and builds customer trust and loyalty. 
Let's discuss some essential tips for creating a strong brand identity within your site design and development that resonates with your target audience.
Step 1: Define Your Brand
Before you can start building your brand identity, you need to define what your brand stands for. 
Start by asking yourself these questions:
What is your mission?

What problems can you solve for people in the real world?

What values do you stand for?

How can you make sure your brand stands the test of time?

What makes your product or service unique?

What are others not offering that you are?

Who is your target audience?

This can get pretty specific, so don't be afraid to build out several segments to serve.
Once you've answered these questions, you can start to develop your brand identity and weave these answers within the content across your site as your design team builds it out.
Step 2: Brand Identity Elements
Your brand identity comprises several elements that work together to create a consistent and recognizable look and feel. Here are the key elements you need to create:
Logo
Your logo is the brand's visual representation. It should be simple, memorable, and easily recognizable. Your logo design should reflect your brand's values, personality, and mission. Consider the colors, fonts, and shapes that best represent your brand. Some well-known examples we'll explore later include the Nike swoosh, the Apple logo, and the Coca-Cola script.
Color Palette
Choose a set of colors to be used consistently across all your brand materials. This helps create a cohesive and recognizable look. Your color palette should reflect your brand personality and values. For a brand that's all about nature and sustainability, you might choose earthy tones like green and brown. Some well-known brands with distinctive color palettes include Starbucks (green and white), FedEx (purple and orange), and Coca-Cola (red and white).
Typography
Select fonts that are easy to read and reflect your brand personality. Your typography should be consistent across all brand materials, from your site to your business cards. Some brands use custom fonts to create a unique look, while others use more standard fonts for simplicity. 
Examples of well-known brand typography include the sleek sans-serif font used by Apple and the playful, retro script of Coca-Cola.
Imagery
Images should convey your brand's values and personality. Keep imagery consistent with your brand identity and use it to help reinforce your brand message. A brand might use photography to create strong emotional connections, while others use illustrations or graphics for a more playful or whimsical look. Some brands with distinctive imagery include Nike (inspiring photos of athletes) and Apple (sleek product photography).
Voice and Tone
Develop a unique voice that reflects your brand personality and can resonate with your audience. Your tone should be consistent across all brand materials, from your social media posts to customer service emails. It should be authentic and align with your brand values and mission. Some well-known tone of voice examples include Wendy's (playful and irreverent) and Patagonia (adventurous; passionate about ecology).
Step 3: Evolve Over Time
Your brand identity is not set in stone. In fact, it should evolve over time as your brand grows and changes. Stay true to your brand values but be open to tweaking your logo, colors or other elements to keep things fresh and relevant.
Staying in touch with a web development and design team like Big D Creative can help you evolve your brand's identity where it counts; across your online channels.
Some Examples
Here are some quick examples of logos, colors, and other elements that stand out.
Nike
The Nike "swoosh" is a simple yet instantly recognizable logo, conveying a sense of movement and athleticism, which reflects the brand's focus on sports and fitness.
Coca-Cola
Coca-Cola's red and white color scheme is iconic, and the curvy typography and distinctive script logo have remained largely unchanged for over a century.
Apple
Apple's sleek, minimalist brand identity reflects the brand's focus on simplicity and innovation.
Google
Primary colors and highly stylized design language, just slightly adapted for every product across all channels, set apart Google's apps and sites.
Tips and Considerations
A strong brand identity is not just about what you say — it's about how you say it and how your customers perceive your brand. Take the time to develop a brand identity that truly reflects your values and personality, and apply it consistently across all your channels. A strong brand identity will help you build a loyal customer base and stand out in a crowded marketplace.
Here are some additional tips to help you build your brand:
Be Authentic
One example of an authentic brand is Patagonia, which has built its identity around a commitment to sustainability and environmental activism.
Your brand identity should reflect your actual values and personality. Don't try to be something you're not. Customers can see through inauthenticity easily. 
Remember your mission and values and try to refine them as much as possible into a working philosophy that can guide your authenticity. That way, you always have a "north star" to follow.
Be Consistent
A brand that is consistent across all channels is Coca-Cola, which uses the same red/white color scheme and script font in all its materials.
Make sure all your materials use the same colors, typography, and imagery. This includes everything from your site and social media to your business cards and product packaging. 
It doesn't just apply to product sellers, either: you need brand consistency for software, SaaS, and other offerings, too.
Be Adaptable
Your brand identity should work across a variety of channels and touchpoints. Test your materials on different platforms and devices to make sure of their look and feel. 
Think of Google, whose logos and design are always on brand no matter what form they take.
Be Memorable
A strong brand identity should be memorable and distinctive. Think about what makes your brand unique and how you can convey that in your logo, colors, and imagery.
A great example here is Apple, which builds its identity around sleek design and innovative technology.
Be Responsive
Your brand identity should respond to changing trends and customer needs. Don't be afraid to tweak your branding over time to stay relevant and fresh.
Nike has made a hallmark of working with changing trends, evolving its branding over the years to reflect changing attitudes toward both fitness and social justice.
Build Your Brand with Big D Creative
A strong brand identity is crucial for a successful business. By defining your brand's values and mission, developing a unique brand voice and visual identity, and being consistent with your audience, you create a strong brand identity that resonates with your target audience.
If you need help building a strong brand identity or improving your online presence, contact Big D Creative today. Our experts can help you optimize your website, improve your search engine rankings and build a strong brand identity to earn attention. Contact us today and see what we can do for your brand!