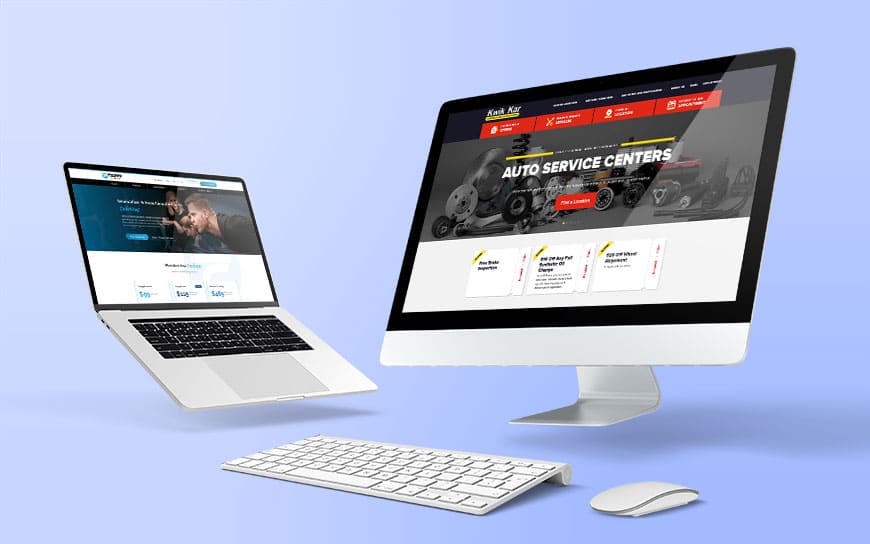 15 Design Elements to Keep Your Audience Engaged
In digital marketing, your website is the backbone of your business. A well-designed website can make or break your online presence, and design can make the difference between visitors staying to engage with your content or leaving after a few seconds. Today we're sharing 15 of the design elements that can help keep your visitors engaged and coming back for more.
Make Getting Around a Snap
For engagement, it's important to have a clear and easy to follow organization structure. Your website should be fun and easy to navigate for every user, which means making sure you're doing these three things.
Is your navigation menu clear and easy to use? Is your structure clean and logical? If your site is content-heavy, consider adding a search bar for easier content discovery and/or a sticky navigation bar to give people easy access to your key content.
Is your design responsive? That means following best practices so that visitors can experience it properly on mobile, tablet and different screen sizes and resolutions.
Accessibility options like high-contrast colors for the colorblind and visually impaired, as well as alt text and text-to-speech and captions for any video you include.
Putting your content where it can most easily meet the needs of your audience is vital to your online presence, and key to keeping people on the page once they find it.
Make a Splash with your Look and Feel
Trends in digital design can come and go as technology continues to develop, but there are a few elements that never go out of style. Here are three areas of your site you can audit for possible improvement when it comes to engagement. 
Is your typography readable, consistent and visually appealing? Are your images and videos high in quality? Consider using white space for better readability. Animation or motion graphics, used sparingly, can give your site a sense of movement.
Are your call-to-action buttons attention-grabbing? Do your social media integration and buttons make it easy to see and share your social content without leaving your site? These little elements make just as much of a difference to engagement as the bigger-picture items.
How are your site and content presented? Parallax scrolling is still in vogue for its dynamic effect, or you can use scrolling effects like infinite scroll or lazy loading to change things up. Dynamic sliders and carousels for showcasing content are another great way to present your best work while keeping it fresh.
While aesthetics are important to the overall effect of your site and content, remember that there are also technical considerations to take into account. Imagine your ideal user and how they would most like to experience what you've got to offer.
Present Your Content with Flair
To get the best use out of your site, you will need to prove your skills and authority. That means producing content that's useful, well-made and presented in a user-friendly way. Get your unique point of view across with a combination of words, pictures and video.
Are you an authority on your industry? Start a blog section for sharing news, updates and personality! Strive for compelling and relevant headlines and content. You can also embed your social media feeds for a dynamic experience that changes all the time.
Do you operate in a specific region or area? Interactive maps and location-based features can give your business hometown charm that lets customers know you are trustworthy.
Stuck for ways to present dry information in a fun and engaging way? Interactive infographics or charts, quizzes or tests are all great ways to draw the reader in and make it fun to learn about your business and what makes it stand out.
There is only one business that does exactly what you do, in exactly the way you've grown to do it. Your content is the first and best opportunity to show what value you bring to your industry.
Make the User Your Focus
One of the most important ways to keep the user engaged is to appeal directly to them. Visiting your website is a personal experience, and there are many ways to reflect that relationship in a way that not only feels good, but keeps users coming back.
Curious about your visitors and how your content is being received? Surveys and polls to gather audience feedback aren't just a way to make your visitors feel heard, they also provide a great feedback loop that can tell you exactly where to go from here.
Want to make your user feel extra-special? A great way to keep them engaged and coming back is through personalized, dynamic content like product recommendations. Try capitalizing on information you've already collected, like location or demographic data, to make the experience as unique and personal as possible.
Want your site to be a fun place to spend time? Unleash the power of user-generated content, which gives visitors a sense of pride and connection to your brand they can't get anywhere else. Reviews and testimonials are another great way to show social proof, prove your authority in the space, and show off all that great feedback on your products and services.
It's important to get across the information that's key to your business and its operations, but that's just the baseline requirement. To really accelerate your engagement, meet the visitor more than halfway by giving them tailor-made experiences.
Add Some Bells and Whistles
You'll be appreciated for making your site experience unique by throwing in a fantastic extra layer or two. It's not just a way to impress your users and competitors, it's also a way to show your customer just how special they are. And how special your business is, too!
Does your site give visitors a ton of choices and areas for personalization? A user dashboard can help them curate the ultimate customized experience.
Gamification elements like badges or rewards are one way for your visitors and prospective customers to stay connected to your brand and come back. And to get the word out, make sure your content-sharing options are optimized for the social media platforms you want to pioneer!
Chatbots are only going to become more standard for sites as AI technology develops, so think of the chatbot as giving your FAQ or knowledge base personality and interaction, which helps create that relationship. If you have a customer service department, think about incorporating live chat. Your visitors will love it, and it smooths out pain and friction points that they'd otherwise have to contend with.
Big swings like these are usually what separates the most loved and visited sites from the rest. You don't have to incorporate all of these concepts, or any of them, but let them inspire your own creative ideas. Your business is unique and it deserves an experience that's specific and special.
Call On Big D Creative for Engaging Design
Designing a website that can keep your visitors engaged is crucial to the success of your business. These 15 elements can help you achieve just that. If you are struggling with design that keeps users engaged, consider hiring a professional agency like Big D Creative. With our expertise in web design and development, we can create a website that not only looks great but helps you achieve your business goals. Contact Big D Creative today and take your online presence to the next level!