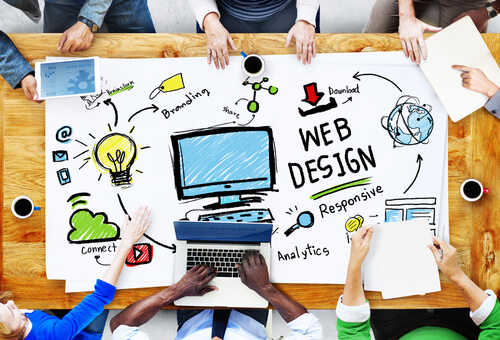 Your Big D Website Redesign Guide, Part One: Reinventing Your Digital Presence
Your website is the gateway to your brand's identity in the digital world. It's often your first impression of potential customers, clients, or visitors. As tech advances and user expectations rise, businesses must adapt — and reinvent their digital presence to stay competitive. 
Let's see how a website redesign can be a game-changer for your brand, and we'll look at some step-by-step guidance to ensure your journey to success.
1. The Power of Website Redesign
Imagine your website as the very face of your business in the vast and bustling digital world. Just as a welcoming smile and firm handshake will leave a lasting impression, a compelling and user-friendly website can captivate visitors and forge a strong connection with your audience.
Two Sides of the Coin
When your website is thoughtfully designed, with seamless navigation, a responsive layout, and an intuitive interface, it becomes a magnet for conversions and customers. It both attracts them and retains their attention, encouraging them to linger longer and delve deeper into your products or services. This extended engagement lays the groundwork for increased conversions, turning curious visitors into satisfied customers and boosting brand loyalty all along the funnel.
The flip side is equally true, however. Like a poorly designed storefront with cracked windows and faded signage deters people from entering, a website with clunky interfaces and slow-loading pages drives potential clients away.
 Visitors today are savvy and impatient. They expect a seamless browsing experience, and even slight frustration or inconvenience can lead them elsewhere.
Transform and Reinvent
A strategic website overhaul is like a transformative makeover in our dynamic digital landscape. It's a chance to breathe new life into your online presence, reimagine your brand's identity, and inject fresh energy into your business. A well-planned and executed redesign will make your website a powerful lead-generation tool. It will capture your target's attention and entice them to take action — whether that's filling out a contact form, subscribing to your newsletter, or making a purchase.
A successful website overhaul isn't just about superficial changes: it goes beyond aesthetics to the very core of your message and brand. It communicates your values, showcases your expertise, and fosters trust in your services or products. When your site becomes a trusted ally, visitors are more likely to return, engage, and recommend you to others.
A strategic website redesign is, therefore, a catalyst for business growth. It positions your brand as a leader in your industry and sets you apart from the competition. Your growth potential expands exponentially as you drive more traffic, generate leads, and convert visitors into loyal customers.
2. Identifying Pain Points
Like a skilled navigator identifies potential obstacles in their path, you need to understand the pain points in your current site before embarking on a transformative redesign. Venturing into uncharted waters, you must gather your insights and navigate every possible user experience. 
Customer Feedback
In site design, the user has all the knowledge they need to unlock your challenges. Engaging with your audience and seeking their feedback is a big part of this journey. Conducting surveys, offering feedback forms, and engaging in open dialogue will give you insight into their thoughts, desires, and grievances. This info is a clear window into what your visitors seek and desire.
You have access to a wealth of data just beneath the surface. You can delve deep into your users' behavior with your trusty web analytics tools. Study the trails they leave behind, the pages they linger on, and the ones they swiftly depart. Are they frustrated by cumbersome navigation? Left to navigate perplexing pathways? Study the challenges your users encounter.
The Bounce
Pay close attention to patterns of departures and/or bounces. Visitors may flee your site after encountering obstacles or having unsatisfactory experiences. High bounce rates on specific pages signal on-page distress, misalignment with search intent, or simple disinterest. Let these be some of the most significant clues guiding you toward a seamless and enchanting user experience.
A true web design and development team knows that you must become immersed in the environment to understand the territory. Put on your empathy glasses and follow the paths you've created for your users. Experience each click, scroll, and interaction as they would, and you will quickly see their site challenges and the connections they're making with your offerings.
Assembling a comprehensive picture of your site's pain points will help you find the common threads in your users' experience. This will help you understand more deeply the obstacles in their way. Now you can chart your course.
3. Setting Clear Objectives
Before initiating the redesign, establish the objectives you intend to achieve. Are you seeking to bolster sales figures, enhance brand visibility, and improve user engagement? 
Keys to Success
Clearly defining these goals is critical, as they're your guiding principles for the entire endeavor. That's why it's prudent to establish specific Key Performance Indicators (KPIs) that align with your stated objectives. These are quantitative metrics that measure progress and help you ascertain whether you're getting your desired outcomes. 
If your primary goal is to augment sales, KPIs might include the monthly revenue generated through the site. For enhancing brand visibility, KPIs could encompass social media followers and website traffic, while things like time-on-site and user interactions would measure user engagement.
A Marathon, Not a Sprint
It's crucial to establish realistic timelines for achieving these predetermined goals. Expecting instant results will lead to unwarranted disappointment and hinder progress overall. A more pragmatic approach acknowledges that any successful transformation requires dedicated effort and a considerable investment of time.
As with any programmatic initiative, there may be challenges and setbacks along the way. It is essential to view these obstacles as opportunities for growth and refinement. Consistently monitoring the established KPIs will yield valuable insights into the effectiveness of the redesign and allow you to iterate and adjust, ensuring a seamless and successful outcome.
4. Crafting a Captivating Design
Visual appearance is the first impression a website makes. Like an elegant storefront draws people into a brick-and-mortar store, a visually appealing site captivates online visitors and can leave a lasting impact. Greeted with an aesthetically pleasing and well-organized layout, users are likelier to stay, explore, and engage with your content.
Staying On Trend
Achieving a captivating design means understanding and embracing modern design trends. The digital landscape is continually evolving, and of course, web design is no exception. Staying current on the latest web design practices will help you infuse a fresh, contemporary appeal.
One significant trend that has gained popularity in recent times is minimalist design. Clean lines, ample white space, and a focus on essential elements are central to this style. Minimalism can create a sense of elegance, simplicity, and sophistication, letting your users focus on your site's core message and function without distractions.
Telling Your Story
On the other hand, vibrant colors and bold typography are also compelling design elements. A color palette that aligns with your brand and evokes the correct emotions will significantly impact how your guests perceive and interact with your site. Creative, distinctive typography should serve as an extension of your brand's personality, reinforcing its identity and uniqueness.
Your site should authentically represent your brand identity, conveying its story and resonating with its target audience. Incorporating brand elements like logos, color schemes, and tone of voice creates a consistent, cohesive identity that sets you apart from the competition.
Function and Form
Well-structured and user-friendly navigation empowers users to explore your site effortlessly, find the information they seek, and accomplish their goals. A clear, straightforward menu with descriptive headings and links to essential sections can create a seamless user experience.
Beyond aesthetics, your site's functionality also plays a crucial role in engagement. Pages should load quickly, and the site should be responsive, meaning it adapts to various screen sizes and devices — a necessary element of any website in the current age.
Additionally, interactive elements can enhance engagement by inviting users to participate actively. Features like sliders, image galleries, interactive forms, and scroll-triggered animations can make the user experience more enjoyable and memorable.
5. Refresh Your Web Presence with Big D Creative 
Ultimately, the key to success lies in striking a balance between captivating design, modern trends, and the authentic representation of your brand. When visitors are met with an immersive and coherent experience, they connect with your brand on a deeper level, fostering long-term relationships and loyalty. 
Remember, in the digital world, evolution is the key to survival. Your digital presence is a reflection of your brand's values and offerings. A well-executed website redesign can unlock unparalleled opportunities for growth and success. Remember, the digital landscape is ever-changing, and reinventing your website is not just a one-time task but an ongoing journey to stay relevant and impactful.
Ready to elevate your brand's digital presence? Let Big D Creative guide you through a transformative website redesign! Contact us today for a consultation and take that first step toward revitalized and renewed success.