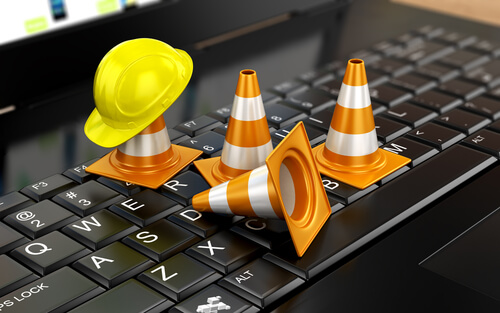 Your Big D Website Redesign Guide, Part Two: 4 Hints for Going Live
Picture this: you're walking into a store, everything is perfectly organized, the aisles are clear, and the products are easy to find. You're delighted by the pleasant atmosphere and the effortless shopping experience. That's exactly what a seamless user experience (UX) does for your website: make visitors feel welcome and help them find what they need effortlessly. 
Whether you're updating your website or starting a new website from scratch, UX is everything. Let's look at ways to enhance your users' experience with a few more big moves.
1. Enhancing User Experience
A fundamental aspect of seamless UX is navigation. As road signs guide you on a journey, structured, intuitive navigation guides us through your site. When visitors land on your website, they should be able to quickly grasp the layout and easily navigate from page to page.
Beautiful Menus
A clean and user-friendly menu is crucial for effective navigation. Be sure menu items are clearly labeled and logically organized. 
Avoid overwhelming us with too many options, which will produce decision paralysis. Categorize your content into logical sections to help users quickly locate the information or products they seek.
Load Time Secrets
Waiting for a site to load is frustrating. Many times, it will take us out of our search entirely. Load times can make or break you when it comes to UX because users abandon sites that take too long to load. To provide seamless UX, optimizing your site for speed is essential.
Compress images and other media files to reduce their size without sacrificing quality. Avoid heavy scripts or plugins that might slow you down, if possible. A fast-loading website pleases users and improves search engine rankings, enhancing visibility and reach.
Responsive Design
A responsive, mobile-friendly website automatically adjusts its layout and content to fit various screen sizes. It provides an optimal viewing experience for mobile users and is crucial for seamless UX across devices. It is no longer optional to design responsively now that half of all users primarily access the internet on their phones.
Empathy Is Everything
A mobile-first website lets us interact with your content comfortably, easily navigate with touch gestures, and access essential information without issues. Put yourself in your visitors' shoes. Understand their needs, preferences, and pain points. Empathizing with your audience means designing a site that caters to their needs.
What are my visitors looking for when they land on my site?

How can I make it easy for them to find what they need?

What might be some potential obstacles in their journey?
These questions can help you make data-driven decisions to improve your UX continuously.
Calls to Action
In addition to the navigation and technical aspects, great content and focused calls-to-action (CTAs) on your site are vital in enhancing UX. Your content should be clear, concise, and relevant to your target audience. Use headings, subheadings, and bullet points to make it more skimmable and readable.
Strategically place your CTAs to guide visitors toward the intended action, whether purchasing, signing up for a newsletter, or contacting you. Make them stand out and use compelling language to encourage your visitors in the right direction.
2. Creating Valuable Content
In the kingdom of website design, content is king. And just like a charismatic ruler captivates their subjects, valuable content enthralls our visitors, keeping them returning. Offering a treasure trove of valuable content is your site's cornerstone. 
But what exactly constitutes this content treasure? It can take various forms, each serving a unique purpose in engaging and enchanting your visitors.
Blog Content
The content crown jewel is the informative blog post. Well-crafted pieces of written art educate, entertain, and inspire the audience. Share your knowledge, expertise, and insights on the topics that resonate with your target. You establish yourself as a trusted authority by addressing their pain points, answering their questions, and providing compelling solutions.
Regularly updating your blog with fresh and valuable content keeps your audience informed and boosts your search engine ranking. Search engines adore relevant, high-quality content, and this authority lends you better visibility and great new potential.
Video = Engagement
Videos have become a favorite of internet travelers, and integrating them into your design will work wonders. Product demonstrations, explainer videos, or captivating stories: Video uniquely conveys information in an entertaining and visually stimulating way.
Video also fosters a deeper emotional connection with your audience, enhancing brand loyalty and encouraging them to share your content with others seamlessly. These shared videos spread the word about your site, attracting new visitors and expanding your online reach.
Interactives
Guiding your visitors on their journey is like a hiking guide, ensuring the comfort and convenience of their charges. Interactive guides like tutorials, step-by-step walkthroughs, or interactive quizzes can make this journey all the more enjoyable and fulfilling. Make them awesome enough; they can even drive traffic and share themselves!
These guides not only engage visitors but also serve as valuable resources — content they can refer to again and again. Whether they seek knowledge, tips, or practical advice, your interactive elements provide their answers, solidifying your site's reputation as a go-to destination for reliable information.
3. Implementing SEO Best Practices
Imagine crafting a stunning work of art but keeping it hidden in a chamber where no one can find it. It may be a masterpiece, but undiscovered, it quickly diminishes in value. Similarly, a beautiful website may be a sight to behold, but its potential impact is severely limited if it lacks visibility on search engines. 
That's where Search Engine Optimization (SEO) comes in: the key to unlocking your website's potential and making it discoverable by the masses.
Incorporating SEO best practices is like building a beacon to guide visitors directly to your door. By optimizing your website to rank higher in search engine results, you become more visible to people searching for products, services, or information your site offers.
Increased Organic Traffic
Organic traffic is the holy grail of website visits: visitors who arrive at your website naturally through search engine results without paid advertising. 
Increase in Conversions
More than just boosting traffic, SEO also paves the path to conversion. 
Conversion is when a mere visitor transforms into a loyal customer, completing the desired action – purchasing, subscribing to a service, or signing up for a newsletter.
Tips
Extensive

keyword research

can help you identify high-potential search terms relevant to your business. 

Place these keywords in the site's content, including meta tags and URLs, which signals search engines about your relevance to specific queries.

Ensure your site is easy for visitors to navigate, find products, and complete purchases. 

Cultivate a strong network of backlinks—links from other reputable websites pointing to yours that can act as cumulative virtual endorsements, vouching for your credibility and authority and elevating your site's rankings.
4. Testing, Iterating, Testing…
A website redesign is an exciting journey but not a one-time trip. It's an ongoing adventure! 
A successful redesign means a continuous process of improvement: Keep testing, collecting feedback, and using data-driven insights to steer in the right direction.
Before Launch
Perform meticulous testing across various devices, browsers, and screen sizes to ensure your site looks and functions flawlessly for every possible visitor. 
Identify and fix any bugs or issues to deliver a smooth and seamless user experience.
Once Live
Regularly, A/B tests different versions of pages and site elements. Test different layouts, colors, call-to-action buttons, and content variations to see what resonates best. These tests can provide valuable insight into what works and what needs improvement.
Collecting Feedback
Encourage your visitors and users to provide feedback. Listen attentively to their comments, suggestions, and pain points. You can collect feedback through surveys, user interviews and analyze user behavior with analytics tools. By taking feedback seriously and addressing those needs, you build a stronger connection with your audience, fostering loyalty and trust.
Data Analysis — Your Secret Weapon
Analyze the data gathered from various sources like site analytics, user behavior metrics, and conversion rates. These insights unveil patterns, user preferences, and areas where your website excels or needs improvement.
For instance, A high bounce rate on a particular page might indicate a problem with its content or layout. Use this data to refine and optimize the page.
The digital world is a dynamic landscape, ever-changing and growing. You must iterate and update your site to stay ahead of the competition and meet evolving user needs. Implement lessons from testing and feedback and apply data-driven insights to refine your design, content, and functionality. Embrace a mindset of constant improvement, where every update brings your website closer to perfection.
Refresh Your Web Presence with Big D Creative 
Remember, in the digital world, evolution is the key to survival. Your digital presence is a reflection of your brand's values and offerings. 
A well-executed website redesign can unlock unparalleled opportunities for growth and success. Remember, the digital landscape is ever-changing, and reinventing your website is not just a one-time task but an ongoing journey to stay relevant and impactful.
Ready to elevate your brand's digital presence? Let Big D Creative guide you through a transformative website redesign! Contact us today for a consultation and take that first step toward revitalized and renewed success.